#RIPXVII Terry Pratchett
Rincewind the Wizzard
Quick Scan:
Rincewind starts out in

The Colour of Magic

, the first book of the series
He is hired as a guide for the tourist

Twoflowe

r.
The 

Rincewind series

  (8 books)
follows the misadventures of the Rincewind.
These books are often used to explore the more remote and unknown parts of the

Discworld

.
Update: 03 September:
… it was impossible to read (first 50 pages) without doing some research
Without this website I could not follow the story!
DNF after reading 25%
…putting this book on the back burner.
After a good nights sleep….
I will  TRY to finish the  AUDIO book!
G

reat A'Tuin is a turtle

…with  four World Elephants and a disc-shaped world 
Ankh-Morpork is the largest city on the Disc with about a million inhabitants.
It is also one of the most common locations for the Discworld stories.
This is all difficult to digest
….I need time to settle into Pratchett's bizarre Discworld!
SEPTEMBER
Finish date: 22 September 2022
Genre: novel (pg 228)
Rating: D
Good news: I know there are better books to come in the Discworld series so it is now a matter of gritting my teeth and getting through this book. Paperback was not readable b/c my mind could not grasp the world-building and quirky characters that keep popping up! Switched to audio book and use the "voices" to differentiate as to who's who!
Bad news: This is THE most difficult audio book I've encountered ins many years. Luckily is is just 7 hrs 58 min. Terrible narration …but that is the least of my worries. I just have to understand what's going on!
Bad news: The narrator is definitely not my favourite. 90% of his character voices sound like a whiney 10 year old. I just had top grin and bear it!
NOTE:  27 October 2022: A scheduled publication of new audiobooks is expected…so perhaps wait until then…listen to a sample and perhaps you will like it (Audible.com)
Bad news: I have NO imagination. I struggled in the beginning to understand what Pratchett was saying! Example: Rincewind has luggage with hundreds of little legs. Prachett used our modern "carry on luggage with wheels" and turned it into something for Discworld. The luggage follows him everywhere, generally attacking anything it perceives as a threat to Rincewind.  Another example: inn-sewer-ants-polly-sea = insurance policy
If I don't get through this…I'll never finish this series!
Personal: Not the best book to start a series….I'm sure many people gave up as I almost did. Now that I have finally finished this book I want  to move quickly on to better books in Prachett's imaginative world!
NOTES:
The

 

DISC Gods played games with the fates of people so they had
…a large temple-like game room at the top of the whole thing.
Here they used a large round flat game-board which was actually the Disc.
The game was like a board game and there was
…a pin in the center of the board shaped like Cori Celesti.
Blind Io is the Chief of the Gods.
He is completely blind but instead has countless eyes orbiting his head.
 He and the other gods play games with the lives of mortals.
NOTE:
I am in AWE the world-building
…the work of Pratchett's amazing imagination!!
Sea trolls:
A sea troll was a species of troll. Sea trolls were made up of animated water.
They were not native to the Discworld and came from Bathys.
Sea Trolls are elemental (…all water!) unlike the native Discworld trolls.

NOTE:

 Troll comes from another Discworld: Bathys = completely of water (see image)
How does Pratchett think of all this?  BATHYS = Bath = bathtub or BATH, England!
Good news:
This is a great series of 41 books…and so worth the time and effort to read them!
WHERE TO START WITH DISCWORLD?
The Discworld is the fictional setting of Terry Pratchett's most iconic series.
All the Discworld novels take place on a flat, circular world which sits on the back of four elephants
…which stand on the back of a giant star turtle.
Although this world may look and sound completely different to our own
the Discworld novels explore a multitude of very human issues.
You'll find all 41 Discworld novels with short synopsis
… in the

order they were published

. "HERE"
The Discworld novels can be read in any order!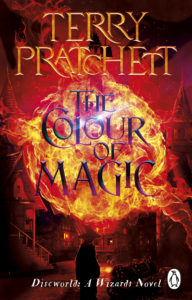 I